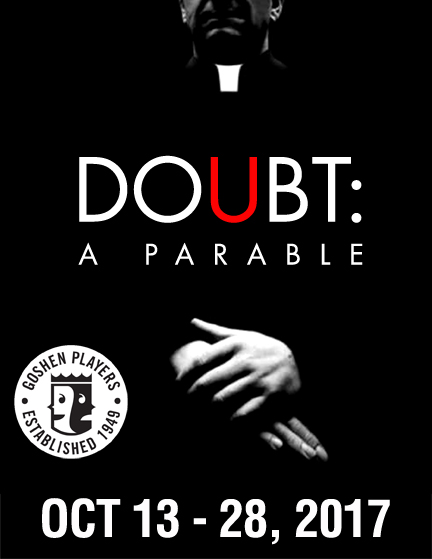 Sunday, August 20th & Monday, August 21st from 7pm – 9pm
Goshen Old Town Hall, 2 North St., at the Rotary Junction of Rts 4 & 63, Goshen, CT 06756
The story takes place in 1964 in a Catholic school in the Bronx, New York . It begins when uncertainty strikes Sister James, a young sister who recently started teaching at the school. She is concerned that the relationship between a priest, Father Flynn and a student may have become inappropriate and confides this fear to the principal, Sister Aloysius. Learning this concern, Sister Aloysius becomes determined to find out the truth about what happened and to protect the boy. A gripping mystery, winner of the 2005 Pulitzer Prize and Tony Award and written by John Patrick Shanley, DOUBT, A Parable, will be presented with permission from Dramatist Play Service.
Performances: October 13, 14, 20, 21, 27, 28 @ 8pm, October 15 & 22 @ 3pm
Casting Details:
Those auditioning will be asked to read from the script and interact with others auditioning
Roles Available:
Role of Sister Aloysius Bouvier has been cast
Sister James: She is in her twenties. There's a bit of sunshine in her heart, though she's reserved.
Father Flynn: A priest, Father Flynn, in his late thirties. He is working class, from the Northeast.
Mrs. Muller: Mother of Donald Muller, she is a black woman of about thirty eight. She's on red alert.

Rehearsal schedule: Rehearsals will begin shortly after casting and be three times a week. Schedule will be determined after casting is complete.
Questions?: goshenplayers@gmail.com