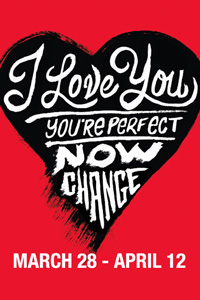 Book and Lyrics By Joe DiPietro; Music By Jimmy Roberts
Directed by Colleen Renzullo; Musical Direction by Scott Stanchfield

Seeking two men (baritone/tenor) and two women (contralto/mezzo soprano) Age range of characters is 20's-ish to 40's-ish

Sunday, December 8th and Monday, December 9th, 2013 at 7:00 pm GOSHEN OLD TOWN HALL, 2 NORTH STREET,
AT THE ROTARY JUNCTION OF ROUTES 4 & 63, GOSHEN, CT 06756

BRIEF SYNOPSIS:
I Love You, You're Perfect, Now Change is presented in the form of a series of musical vignettes connected by the central theme of love and relationships. The plays tag-line is "Everything you have ever secretly thought about dating, romance, marriage, lovers, husbands, wives and in-laws, but were afraid to admit." The scenes stand independent of one another but progress in a fashion designed to suggest an overall arc to relationships throughout the course of one's life.

PERFORMANCE DATES AND TIMES:
ALL AUDITIONERS MUST BE AVAILABLE TO COMMIT TO ALL PERFORMANCES
March 28th, 29, April 4th, 5th, 11th & 12th, 2014 at 8:00 pm
March 30th & April 6th, 2014 at 5:00 pm

ADDITIONAL INFORMATION
• Provide a resume if available, otherwise audition forms will be provided.
• Heads-hots are not necessary.
• Auditioners should have strong singing voices, be prepared to sing something "a cappella" to demonstrate vocal range and to harmonize by learning a small piece from the show. You may perform a piece from the show but it is not required. Piano accompaniment and show sheet music will be available.
Rehearsal scheduled will be announced based on availability of actors and staff.

Questions? Contact Colleen Renzullo at colleenrenzullo@gmail.com or 860.689.5819