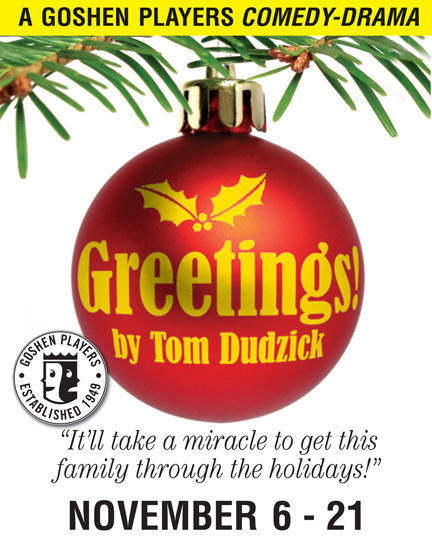 Greetings
by Tom Dudzick

November 6 – 21, 2015
Fridays and Saturdays at 8:00 PM
Sunday, November 8 and 15 at 3:00 PM

Andy has a sweet Catholic mother, a sour Catholic father and a severely developmentally disabled younger brother named Mickey. When he brings his Jewish atheist fiancé to meet the folks on Christmas Eve, his worst fears about family blow-ups are realized. But when Mickey, whose entire vocabulary has been limited to "oh boy" and "wow," suddenly spouts the word "Greetings!" the entire family's belief system is turned upside down. For it seems an ancient, wise and witty spirit who is set upon healing the family's wounds has borrowed Mickey's body!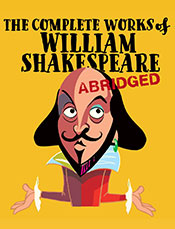 The Complete Works of William Shakespeare (abridged)
Written by Adam Long, Daniel Singer and Jess Winfield

April 22 – May 7, 2016
Fridays and Saturdays at 8:00 PM
Sunday, April 24 and May 1 at 3:00 PM

All 37 Plays in 97 Minutes! An irreverent, fast-paced romp through the Bard's plays, The Complete Works of William Shakespeare (abridged) was London's longest-running comedy having clocked a very palpable nine years in London's West End at the Criterion Theatre! Join these madcap men in tights as they weave their wicked way through all of Shakespeare's Comedies, Histories and Tragedies in one wild ride that will leave you breathless and helpless with laughter.