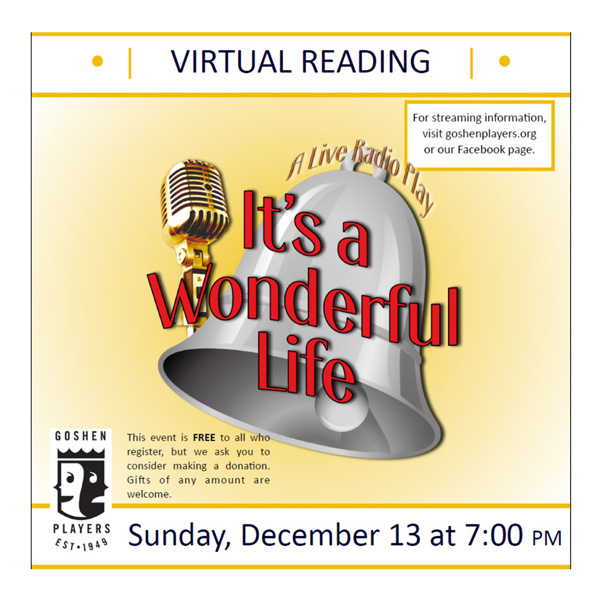 It's A Wonderful Life, adapted and directed by Joe Guttadauro, is a radio style adaptation of the Frank Capra masterpiece film. This is the saga of George Bailey, the everyman from the small town of Bedford Falls, whose dreams of escape and adventure have been squashed by family obligations and civic duty.  His guardian angel has to descend on Christmas Eve to save him from despair, and to remind him – by showing him what the world would have been like had he never been born – that he has had, after all, a wonderful life. Our production features: Lydia Babbitt, Chet Davino, Eric Lindblom, Lyn Nagel, Lana Peck, Dan Ringuette, Justin Torres, Conrad Sienkiewicz, Caroline Sienkiewicz and Kelly White.


The Goshen Players believes that theater and our community are strengthened by diversity, equity and inclusion. We strive to create a safe environment for all people, where differences are acknowledged and embraced. We are committed to continually evaluating our work toward this goal. Our doors are open to all.
Volunteering Opportunities

Goshen Players is always looking for volunteers to help with productions. There are many areas in which you can become involved. Production roles are always in demand. Stay up to date on our events by signing up for our emails. If you'd like to get involved, send us an email at goshenplayers@yahoo.com.